On the 2nd Day of Christmas Bonnie gave to me..
Buy two template packs and get one for free.

That's right it's the second day of Christmas sales at
Brownie Scraps
and I'm the featured designer! I've got lots of fun, games, and freebies for you.
First..... I'm super excited to introduce my
12 Days of Christmas bundle
. This bundle includes 12 templates each representing 1 of the days of Christmas. Template 1 has one photo spot, template 5 has five photo spots and so on. So whatever your template needs, 3 photos, 8 photos, or 11 photos, this bundle has got you covered! The best part....It's only
$5.00
!!! This super low price is valid through December 14th, so hurry and grab it before it goes back to full price.
Here are some great layouts created by my very talented creative team...

Also...When you spend $5.00 with any designer at
Brownie Scraps
you will get this template pack FREE!!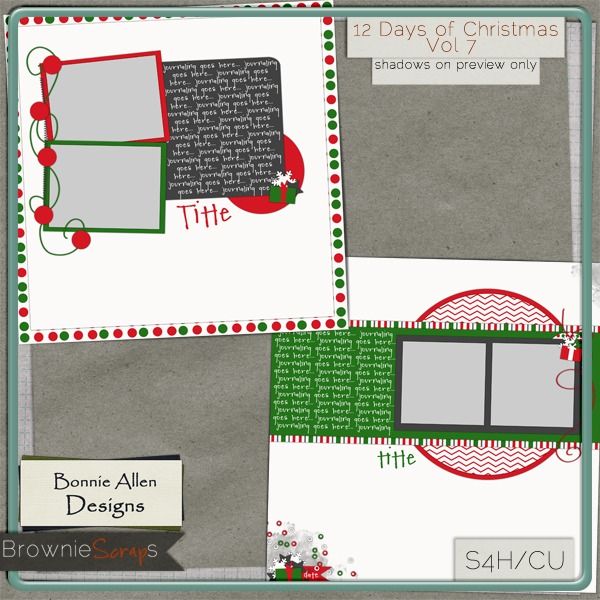 More fun, games and freebies....

*All newsletter subscribers are getting a coupon for 25% off their entire purchase December 5th - December 31st.

**Sign up for my newsletter today for a chance to win two free template packs...tomorrow I will be drawing random subscribers to get coupons for discounts ranging from 20% to 50% off , and gift certificates for 1 or 2 free template packs.
***"Like" BADScraps on Facebook for a new fan freebie!
****Last but not least...Find your favorite template pack in
my store
, "Pin it" on Pinterest, and post the link to your pin in the comments for a chance to win your favorite pack. I will be randomly selecting winners on Wednesday December 5th. (Bundles are not included)
Happy shopping...make sure you check out Brownie Scraps every day for the next two weeks. There is a different featured designer with new sales, and freebies every day through the 14th!